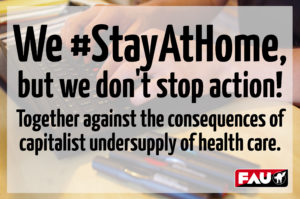 +++ Multilingual Informations you can find by the Refugee Council in Dresden +++
Will be updated continuously, last update: April 2, 1 pm
Contents: 1. labour law & Corona | 2. counselling and services of FAU Dresden during Corona | 3. overview of neighbourhood help in Dresden | 4. overview of help funds for employees & solo self-employed persons | 5. counselling numbers and help centres (including domestic violence)
Labour law and corona, sick out
On the website of the Federal FAU you will find current collections of regulations concerning labour law, law for self-employed persons and much more. At the moment, due to the dynamic situation, some things are still a little unsorted or doubled – this will certainly get better in the next few days. If questions remain unanswered, please feel free to ask us, we will look for an answer and take the questions with us.
From 9 March onwards, the following rule applies for 4 weeks: "Patients with slight diseases of the upper respiratory tract can get a certificate of incapacity to work for a maximum of seven days after consulting their doctor by telephone". If you have to be in quarantine on a self-employed basis, you will be supported by the Infection Protection Act. Please ask us for details in your situation!
Consulting and services of FAU Dresden during the corona epidemic
We see it as an act of solidarity to prevent contagion and therefore we are cancelling all physical meetings until further notice. However, you can reach us by e-mail, by telephone on 0159 051 89 548 and during our consultation hours by chat or online telephone during our online consultation. For FAU members there will be an online meeting in the evening to fight against isolation.
Neighbourhood assistance in Dresden
If you are looking for help with shopping, walking or other errands, because you belong to the risk group, or if you have other problems or want to help, you can get in touch with us at different places in different parts of the city. If you hear about other initiatives, please let us know by mail. Here is a map of all food donation points (#Gabenzaun)
List by city districts:
Altstadt:
Drop off and pick up food donations: Hauptbahnhof/ Central Station (rear entrance Lidl)
Friedrichstadt:
corona-hilfe-friedrichstadt@gmx.de | Mailbox of the "Schatzkiste" Behringstraße 34 | soli_nachbar_01067@gmx.de | 0174-3644493 | Telegram: t.me/corona_01159
Drop off and pick up food donations: Koreanischer Platz
Gorbitz
corona-hilfe-friedrichstadt@gmx.de & faudd [at] fau.org | Telegram: t.me/corona_01159 | 0174-3644493
Drop off and pick up food donations:  on the path that leads to Kirschenstraße behind the 138th primary school
Johannstadt
Laubegast
Löbtau:
corona-hilfe-friedrichstadt@gmx.de & faudd [at] fau.org, Telegram: t.me/corona_01159 | 0174-3644493
Drop off and pick up food donations: Reisewitzer/Kesselsdorfer Straße
Neustadt & Hecht:
01097.99coronahilfe@gmail.com | Telegram: t.me/corona01097 | Neustadt South: 0157 34 87 69 67 | Hotline Neustadt North: 0157 34 87 69 76 |
Drop off and pick up food donations: Königsbrücker/Lößnitzstraße, Luisenstraße at the olayground, Königsbrücker Straße at the post office, Bischofsplatz, Stetzscher Straße 7,  AZ Conni, Görlitzer Straße parking place, Görlitzer/Bautzner Straße
Pieschen:
corona.soli01127@notraces.net | Telegram: t.me/corona01127| 0170 / 7889809 (10-20 o'clock)
Drop off and pick up food donations: Haltepunkt Pieschen, Alexander-Puschkin-Platz
Rudolfkiez/Scheunenhoffviertel:
Übigau:
wohnlabor26 [at] riseup.net
Counselling numbers and help centres (including domestic violence)
Child and youth telephone: 116 111 or 0800 111 0 333
Parents' emergency telephone: 0800 111 0 550
Emotional Emergency Helpline: 0800 111 0-111 or -222
Help portal sexualised abuse: 0800 22 55 530
violence against women: 08000 116 016 or 030 611 03 00
RAA Victim Counselling Service for cases of Racism in Dresden 0351 / 850 75 222 (multilingual)
Addiction assistance: 01805 313031
Ritual violence help line: 0800 30 50 750
Hotline child protection Tel.: 030 610066
Children's emergency service: 0 – 13 years Tel.: 030 610061
Youth emergency service: 14 – 18 years Tel.: 030 610062
Girls emergency service: 12 – 21 years Tel.: 030 610063
On-call service for medical assistance: 116 117
Alcoholics Anonymous: 08731 32573 12
Help telephone for violence against women: 0800 0116 016
Addiction & drugs hotline: 01805 313 031
Senior citizens' telephone: 0800 47 08 090
Help phone for pregnant women in need: 0800 40 40 020
Fire and emergency rescue service: 112
The group e*vibes collects and distributes further information.
Support fund for employees, self-employed persons and freelancers
Support fund up to 1000,- of the city of Dresden for freelancers, micro-enterprises, solo self-employed
Overview of further economic aid at Dresden.de
Aid fund for employees and freelancers in the creative industries of "Wir gestalten Dresden" and Overview + communication network for artists and cultural workers.
Overview by German federal states.