As in the years before we actively participate in the actions and protest on the occasion of 8th March.
Together with th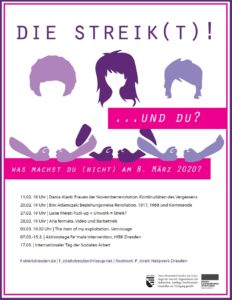 e feminist and women's strike network Dresden we organize three readings in the next weeks:
– 11th February 2020, 6 p.m. @ Neustadt quarter library: Women in the November Revolution. Continuing neglect. Reading, speech and discussion with Dania Alasti
– 20th February 2020, 7 p.m. @ Motorenhalle (Wachsbleichstraße 4a): Relation(ship)s and Revolution. 1917, 1968 and the ones to come. Reading and discussion with Bini Adamczak
– 27th February 2020, 7 p.m. @ Projekttheater (Louisenstraße 47): Fuck up + unwork = strike? Reading and discussion with Luise Meyer (MRX Maschine)
Whisper translation into English will be provided.
Meet us at our info-point!
On 6th March the pupil's union Black Rose will take to the streets with their strike mobile.
On 7th of March ABC Dresden is mobilizing to demonstrate to the women's prison Chemnitz, which we participate in.
On 8th March we will take part in the strike breakfast at the art's academy (HfbK) and would like to discuss together with you how to strike effectively in the labour sphere as well as in the reproductive sphere.
That's only a small part of all the events to come. More detailed information you'll find on the feminist and women's strike network's website and in the following weeks on our site.
You want to strike but don't know how?
Information about your rights you can find in our brochure on strike legislation (unfortunately only available in German) or visit our next support meetings, on 18th February and 3rd March, from 6 to 8 p.m., in the syndicate's office in the rear building of the housing project Mangelwirtschaft, Overbeckstraße 26.