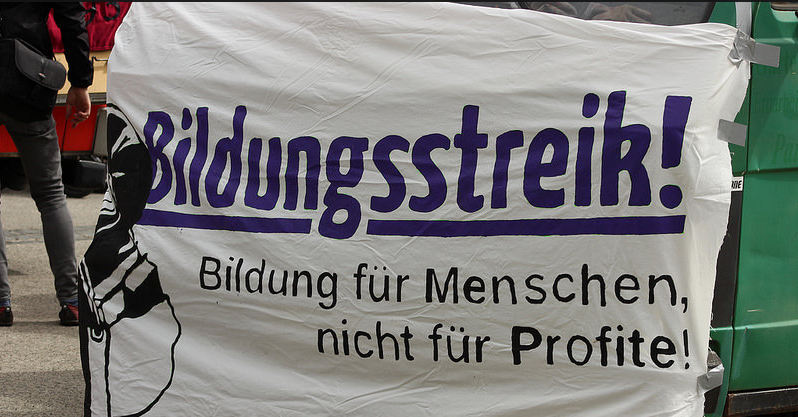 Observations on the educational landscape
Pressure to perform and selection determine everyday educational life. For many people, the economisation of the education sector has resulted in poor working and learning conditions. Existing hierarchies and other institutional problems prevent self-determined learning and democratic education. However, neither the interest groups of the various status groups nor educational protests have been able to counter these problems.
Getting involved instead of watching
We want to revive the concept of a fighting education union, which has long been a reality in other countries. We hope to create a continuous organisation that will pass on the experience of past struggles and have a lasting influence on everyday work and education. In our organisation there should be room for all people from the educational sector who want to defend themselves against the circumstances and overcome them – regardless of their status group. Whether teachers, cleaning and cafeteria staff, pupils, students or administrative staff. We need a syndicate in which we act together.
What we are currently doing:
At the beginning, of course, we do small steps: We monitor employment contracts and train ourselves in legal matters; we enforce occupational health and safety rights and contribute to small improvements in everyday work. At the TU Dresden, we work together with other committed colleagues to fight, among other things, against time limits, and with committed students we fight for autonomous spaces of free education at universities. In educational institutions such as the "Netzwerk Demokratie und Courage" we try to improve co-determination and wage levels. Together with the collective enterprise federation Union Coop, we are trying to establish our own progressive educational enterprises in workers' self-administration. Among other things, we help students with mobbing and grassroots democratic organisational processes. But then it quickly turns to something bigger: We help independent educators to build up a lobby towards their clients and improve their working conditions; fee tariffs are negotiated or employment contracts are enforced.
Medium and long-term goals
In the mid-term, we want to work towards improving learning and working conditions in all educational companies. In particular, we call for:
Especially in science and adult education, more and more people are trapped in precarious self-employment or temporary part-time jobs. Whether in preschools, schools, universities or the free education sector – regular employment relationships and open-ended employment contracts are needed everywhere.
Internships and trial working hours are often sold as part of training, as an opportunity to learn something – but often it is simply work that would have to be paid. This practice must stop: No work without wages! The aim is to clarify and enforce wage claims.
University teaching must finally be fully financed. Its financing must be based on concrete existing students, not on abstract numbers of study places.
Temporary work must be abolished here as everywhere.
Admittedly, it will not be possible to transform the entire education system in an emancipatory way tomorrow: The structural causes of the problems in the field of education can only be overcome by a broad organisation that combines the pursuit of concrete improvements in our learning and working environment with an overall societal perspective. This is why we organise ourselves as part of the FAU, with which we form a federation of grassroots trade unions from various contexts. What we need are parallel struggles in all areas of society with which we aim for change from below.