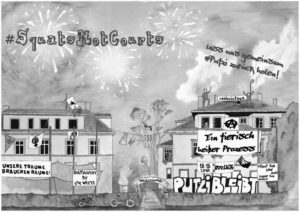 In the Corona crisis, more and more people cannot pay their rent. Those who had to live on the street before Corona, or those who cannot feel safe in their apartment, were confronted with the cynical demand to stay at home to protect themselves and others. Actually, at the latest this should open the eyes to how absurdly the housing question is answered by a capitalist economy. Hotels, vacation apartments, Airbnb apartments and houses are empty, while refugees have to live crammed together in camps and shelters, others unprotected on the streets. Rooms for various cultural activities are also often lacking, but there is still room for a parking garage somehow.
Now there are some people, also called "animals", who draw the conclusion from all these absurdities to move into empty and unused houses, to inhabit and revive them. This happened for example in January of this year in the "Putzi" in the Königsbrücker Straße. Many liked it, but not everyone. After four days the police cleared the buildings. In the consequence some participants received penalty orders because of trespass and common damage to property. There are also threats of heavy fines. Members of FAU Dresden are also affected.
Against two of the squatters the trial began last Monday, 17.05. at the district court. The defendants justified their participation in the occupation by citing rising rents and the displacement of disadvantaged people from their districts. While the judge would have liked to stop the trial ("Privately I found the idea with the animal costumes funny, the usage concept was well thought out"), the public prosecutor's office decided against it in the name of the owner "Argenta Internationale Anlage GmbH", which is why the trial will continue on 27.05. The past trial day was accompanied by a rally in front of the court and this should happen again, because we do not leave individuals, in the case of possum and koala, alone of course.
We find the means of squatting empty houses, apartments and areas not only politically completely correct, but it is quite simply necessary for the survival of many people. In the further course of the Corona crisis this will unfortunately probably affect more and more people. Especially now it is important to fight against the criminalization of the appropriation of unused housing.
We do not leave anyone alone with repression, and we do not let ourselves be intimidated. The next hot summer will surely come.