FAU picket from 11:30 am, König*innenufer (Filmnächte)
call of the FAU Dresden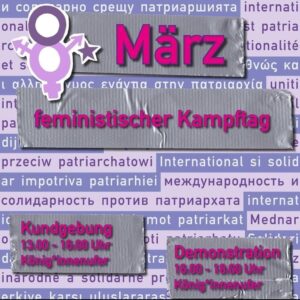 The F*Strike Network Dresden invites on March 8 under the motto "International and in solidarity against patriarchy" to a rally (13-16 clock) and subsequent demonstration (beginning 16 clock) on the König*innenufer. Ver.di also calls for warning strikes in the context of collective bargaining in the civil service and organizes a "Women's Day Demonstration", which will hold an intermediate rally at König*innenufer around 12 pm.
We as FAU Dresden will join the different strikes and welcome the Women's Day and warning strike demonstration on the banks of the Elbe – because: as union members and feminists they affect us! We show our solidarity with the demands of the collective bargaining process, which go beyond the collective bargaining agreement and thus tie in with feminist strike movements, such as the revaluation of work with a female connotation.
Moreover, we want everything to be completely different! Our wishes go far beyond these demands and are oriented towards the feminist utopia of a society free of domination. We think: a good way to get there are feminist strike movements, which have been growing internationally and getting louder for several years. We are working to become politically capable of striking as well, by linking the different strikes together. If we are many, we make it possible not only to defend the existing right to strike, but even to expand it. When we refuse our work (wage work, unpaid care work, domestic work, …), we have the power to make a difference. Why are you striking on March 8? What would you like to change? See you on 8M, we look forward to nice FLINTA* strike talks with you!
11:30 am at the König*innenufer (Filmnächte)
FAU picket (all sectors, unemployed, pupils, trainees, students, pensioners, …, all gender) and brunch

Welcome of the strikers in the public service, who come with the ver.di demo
from 13 o'clock rally "International and in solidarity against patriarchy" of F*Streik-Network Dresden
from 16 o'clock demo of F*Streik-Network