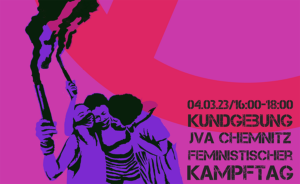 Also this year we invite you to come with us to Chemnitz and show your solidarity to the prisoners in the Chemnitz Women's Prison. The rally will start on March 4, 2023 at 4 p.m. at Thalheimer Straße 29, directly in front of the prison.
A few days later, on March 8, the feminist day of struggle, it will not remain quiet in Dresden. We will keep you up to date!
Hard Facts:
What: Anarchist Feminist Anti-prison Rally.
When: 04.03.2023, 16:00 – 18:00
Where: JVA Chemnitz, Thalheimer Straße 29, 09125 Chemnitz
There will be a collective train travel from Dresden and Leipzig to Chemnitz. More information will follow later. Bring your friends and flags and banners to the rally!
Call for rally in front of Chemnitz Women's Prison by the anarchist feminist anti-prison alliance – March 4, 2023, 4:00 p.m.