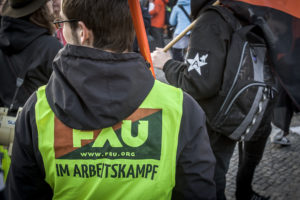 Currently the unions of DGB are negotiating tariff contracts of the civil service. From thursday onward DGB calls for strike.
FAU Dresden participates in the strike, as other syndicates do. Members qualify for strike pay if the participate in the demonstrations. Please ask the syndicate for numbers.
The first demonstration is on 14th of February in front of the ministry of finance. There will be a small group of FAU members. Please bring your flags and wests. Unorganized workers can participate too, please inform yourself about the legal situation via e-mail to our syndicate.