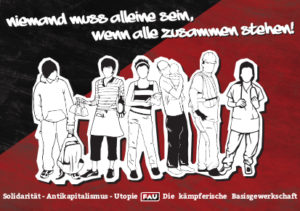 Not just swallowing a dismissal can be worth it. Thus the general syndicate Dresden supported one of its members that resisted against a dismissal before court. The colleague was awarded 2000 € severance pay. It was shown to the company that it can be quite expensive to put one's employees in front of the door without a sound.
The member was employed by a temporary employment agency in the field of education and social affairs. Contrary to the precarious reputation of this industry, the company promoted collegial interaction with the employees, a family atmosphere and so on.
One could talk about anything and the needs of the employees were taken into consideration. The FAU member had to experience for themselves that this collegiality is quickly over as soon as one does not function as desired by the company management. After a long period of illness, they were dismissed without giving reasons. In doing so, no requirements of protection against dismissal were met and the dismissal was therefore invalid.
It is worth taking action against this! With the support of a lawyer, a severance payment of 2000 € and the payment of the outstanding holiday pay could only be made after an action for unfair dismissal had been filed.
The FAU Dresden supports its members not only with dismissals and other problems at work, but also with stress with the landlord or job center. We use the trade union to network with our colleagues and to inform them about our rights and opportunities. With our trade union consultation, which takes place every two weeks, we offer a room where we can discuss problems at the workplace and find solutions together.
So: Inform yourself about your rights! The sooner you start, the better the chances of success. Don't take everything from your bosses! If they inform each other about how they can best keep us down and throw us out1 as soon as we get upset, we will make it as hard as possible for them.
1 http://akkffm.blogsport.de/2017/01/11/union-busting-der-organisierte-klassenkampf-gegen-die-arbeiterinnen/ (in german)